Crockett Tile Flooring
Update your California home with stylish, functional, and durable custom tile flooring! Bay Area Custom Floors Inc. is your Crockett tile flooring company, providing complete custom tile solutions for your home or business.
Whether you are seeking the look of natural stone, want a modern style finish, or are just looking for an attractive, neutral style tile, we can recommend the right tile product to suit your needs.
With many styles and types available, we make it easy to find the perfect complement to your home and lifestyle. Beyond the type of tile itself, there are many different sizes, shapes, designs, layouts, and colors that you can choose from or combine for complete customization.
We provide tile for all areas and all projects, including tile showers, tile tub enclosures, outdoor tile accents, kitchen tile backsplashes, and any other project you can dream up. As a versatile medium, tile is an attractive, durable, and functional solution for many different projects.
We assist you with determining the right tile for your unique needs, and as a full-service tile floor provider, we handle your entire project from consultation to expert local tile installation.
Call Bay Area Custom Floors Inc. at (925) 320-3955 for a Free Consultation & Estimate!
Professional Tile Flooring Consultants
Our Crockett, CA tile flooring consultants provide experienced support, expertly assisting you with determining the right tile products to meet your needs, space, lifestyle, and budget. With so many different options for floor tiles, selecting the ideal materials for your project can be difficult. There are a lot of questions you will need to answer, and we can help.
The first decision is the type and style of tile you desire for your home. We provide porcelain, ceramic, marble, and natural stone tiles in various sizes, shapes, and designs. Different types of tiles require different installation, finishing, and maintenance treatments. We make sure you get the right tile for your project, and our experts also help you select coordinating elements to ensure a professional, attractive finish.
Depending on your desires and the tile you select, there are many different layout and placement options for your tile flooring. The amount of coverage you desire, from a single room to your whole home, can have an impact on the layout that best suits you. We offer standard linear placement, herringbone, subway, basketweave, cobblestone, and random patterns, as well as custom designs. If you plan to carry your flooring throughout, we can ensure that your pattern is aligned in a way that will support future seamless expansion.
For any tile project, you need more than just the tile itself to get the project done. Our make sure you have the right quantity of tile to complete your project, as well as all required finishing and installation products, such as mortar, grout, bullnose, thresholds, and edging. Working with a professional also reduces the amount of total product needed to complete your project, as we are experts at precision cuts and maximizing material using smart placement and proven techniques.
At Bay Area Custom Floors Inc., we handle every detail of your custom tile floor project. As consultants, designers, and installation experts, we are the partner you can trust.
Custom Tile for Kitchens
Attractive, durable, and easy to keep clean, tile is a popular and suitable choice for kitchen floors. Your kitchen experiences a lot of traffic, especially if you regularly cook meals at home for you and your family. Pets and kids often lead to messes and spills that can be easily wiped away from properly installed tile flooring.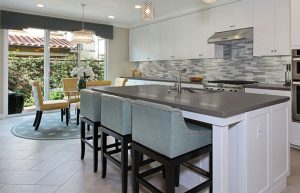 Tiled kitchen floors are a high-impact, low-maintenance choice. We provide a full array of kitchen floor tiles, including natural stone or marble tiles, as well as printed ceramic or porcelain tiles in virtually unlimited finishes, colors, and patterns. From classic to funky, we recommend the right tile styles and designs to suit your home and personality for a long time.
We provide more than just kitchen floor tile; we are complete floor installation specialists, ensuring every aspect of your job is handled properly and professionally for maximum long-term appeal.
Shower & Bathroom Tile
Another popular home remodel project, tile has many applications for updating and renovating your bathroom. We provide more than just tile bathroom floors, we offer complete bathroom renovations, including cabinet installation, installing slab countertops, and custom tile installations for showers and baths.
Your bathroom should be a place that is both comfortable and relaxing, providing an atmosphere that provides relief after a hard day. We create the retreat you have been dreaming of. We provide options to meet all budgets and desires, and our qualified team of construction experts would love to speak with you.
Not looking for a total renovation? We install tile flooring that is cohesive with the overall design of your existing bathroom, making it easy for you to refresh your space without the cost of a complete remodel. We provide many different types of tile, as well as many different pattern and layout options, allowing you to completely customize and refresh your space.
As your Crockett tile flooring specialists, we know that even the smallest project can have a big impact. We are excited to tackle your project of any size!
Call Bay Area Custom Floors Inc. at (925) 320-3955 for a Free Consultation & Estimate!
Best Tile Flooring Services
Bay Area Custom Floors Inc. provides five-star tile flooring services, with experience, dedication, and a keen eye to detail when assisting all of our clients with their custom tile needs.
Your Crockett tile floor company, we manage your entire project throughout, providing advice, assistance, quality materials, and top-notch service. For a durable, low-maintenance, and high-impact flooring solution that can be perfectly customized to your needs, tile floors by Bay Area Custom Floors Inc. are the ideal choice.
Call Bay Area Custom Floors Inc. at (925) 320-3955 for a Free Consultation & Estimate!