Hercules Commercial Tile Flooring
The architecture and interior design of your building affect both your brand and the consumer's opinion about you. The local vernacular of a city or state plays an integral role in the adaptive design of a company or store. Factors such as climate and the availability of materials in the region are highly considered. To improve the personality of your business, you can focus on the installation of various design elements that complement one another.
Mainly, the flooring, walls, and ceiling should unite under one theme or architectural style, along with other details. Once you figure that out, then you can begin selecting the right materials for each component. For now, let's focus on flooring first.
Call Bay Area Custom Floors Inc. at (925) 320-3955 to get a free consultation with our Hercules flooring company!
The Impact of Flooring on any Business
Flooring occupies the entire buildable area of your lot, plus the outdoor portion that necessitates it, like a pathway leading to a patio or the garden. It creates a huge impact on your building.
First, flooring, through its look and design, quickly gives a psychological impression to your customers about the business, the employees, and even the products and services that you offer. It also gives them an idea about the level of professionalism any business has.
Moreover, the flooring material shows whether the floor is durable and appropriate for a specific kind of application—outdoor or indoor, industrial, or commercial applications, etc. For example, you won't use paving materials such as asphalt, bricks, or stones inside a mall; rather, you will use the right kind of tiles. Read on to find out what your commercial tile flooring options are.
Commercial Tile Flooring Options
Tile is the most used material for the floorings of high-traffic commercial buildings. Companies have different options in using tile as a flooring material. Let's discuss each type of commercial tile flooring below.
Luxury Vinyl Tile
Luxury Vinyl Tile (LVT) is both durable and attractive to use in commercial spaces. It has grown more popular across different industries and has become one of the most versatile and compelling flooring products in the market today. There are endless possibilities in commercial design when using LVT as a flooring material. It comes in a wide variety of options, styles, patterns, textures, etc.
Although it is not suitable for an industrial environment, it can withstand high-traffic areas and heavy loads. LVT is less expensive than most of the other materials and is much easier to install.
Quarry Tile
Quarry tiles are c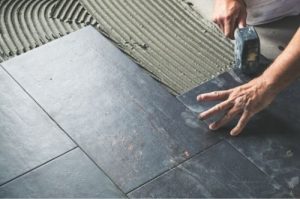 onsidered as the industry kitchen standard. They can resist liquid spills, foot traffic, as well as the buildup of grease. Quarry tiles are made from hard-fired clay, which offers similar durability and functionality offered by porcelain tiles. As long as a quarry tile is installed correctly with proper and regular maintenance, it will last for a significant amount of time.
Ceramic Tiles
Though ceramic tiles are more popular in residential spaces, they can also be utilized in a commercial setting. They can hold out against foot traffic due to their hard and solid surface. Also, they're not difficult to maintain and clean because they don't attract dirt, dust, or pollen. Ceramic tiles, particularly glazed tiles, can resist any stain or water because of its top glaze or protective layer. What's more, ceramic tiles are affordable and available almost everywhere.
Porcelain Tiles
Porcelain tiles are deemed as a more durable type of ceramic tile, especially in a commercial space with heavy foot traffic. Porcelain tiles are smoother and denser than ordinary ceramic tiles. They can stand against moisture; they have a low water absorption rate, making them appropriate for outdoor use.
Carpet Tiles
There is a so-called soft-surface flooring market today in which carpet tiles are dominant. If you are looking for a soft-surface option, carpet tiles are right for your application. They are more functional, replaceable, and cost-effective than broadloom carpets. Carpet tiles are durable and waterproof, so you won't have to worry about their life span along with maintaining their cleanliness.
Other Floorings
Apart from the mentioned types of tile floorings, here are other options in a commercial setting:
Epoxy flooring
From commercial to industrial applications, epoxy flooring systems are a popular choice. Due to its versatility and durability, it's often used even for hangars and manufacturing facilities. It also gives an appealing look to retail stores. Because of its sanitary appearance, it's also effective to use in laboratories.
Terrazzo
They say terrazzo is the leading material for flooring in terms of durability and strength. You can also add logos and other graphics on your floorings using this material. They are versatile, aesthetically pleasing, and customizable. Terrazzo floorings can be an emphatic element on your entrance halls, showrooms, and other high-end commercial spaces.
Find the Right Business Tile Floors For You
To discover the right commercial tile flooring for you, the initial step is to partner with a reliable company that can help you with fabricating the most appropriate custom floorings for your commercial property. We are a top-ranking Hercules, CA flooring company, committed to providing you with the services that you currently need—installation, manufacturing, etc.
Call Bay Area Custom Floors Inc. at (925) 320-3955 and book a free consultation with our Hercules flooring company now!