Pinole Marble Tile Flooring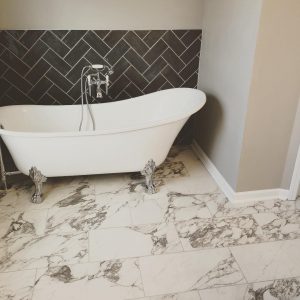 Nothing puts the luxury and spark in any space better than marble tile flooring. A historical and cultural symbol for high society and elegance, marble is one of the most sought-after floor materials in the market. With no less than the majestic Taj Mahal as the prime example, marble effortlessly puts the royal and formal feel to any home, business, or commercial space. The floors of hotels, towers, and mansions are commonly built with the all-natural beauty that is marble.
Most clients would know about the intricacies of both installing and maintaining marble tile floors. It is not the easiest material to handle. Fortunately, Bay Area Custom Floors Inc. can take care of all your marble tile floor needs from day one up until you need to repair or customize. We are a full-service provider of all your floor needs. We deliver highly professional, high-standard, and fast services all at the fairest prices you can find in the market of Pinole, especially since marble is not the cheapest material to work with. Bay Area Custom Floors Inc. is all you need for your marble floor dreams!
Contact Bay Area Custom Floors Inc. today at (925) 320-3955 for your free consultation!
Why Marble Tile Flooring is The Right One For You
Marble as a floor tile with all its elegance is not the cheapest option, but its natural beauty is surely worth the price. Nevertheless, our floor company is here to help you weigh out your options and be reassured of your decision to choose even the most luxurious of marble floors. Here are a few reasons why marble tile flooring is the right choice for your home or business.
Marble is simply gorgeous.
There's no debate about the natural allure of marble in any space, especially as flooring. It's one of the most elegant and luxurious-looking floor products acquired from the world's mineral-rich mountains, making it a perfect deal for its price.
What makes marble so pretty is its utter unique patterns of veins and colors. Because marble is not artificially manufactured, no two marble slabs have the same pattern and color scheme. If you choose marble, what you will put on your floor will be the only one in the world that looks like that. Marble floors will automatically lift your home, office, or any space to a new level of beauty. Not to mention, marble will surely add resale value to any kind of property.
In choosing marble designs, you can choose either in terms of veins or color. Some marbles have orderly, parallel lines, while others have beautifully scattered waves. In terms of color and style, your options can vary among the fairness of Crema Marfil, the pureness of Carrara Venatino, the contrast of Calacatta Borghini, the earthiness of Brescia Sinai, or the simplicity of the brown Bottocino Makrana, among others. Many people use this dominant allure of marble to set the design theme of an entire space.
Another advantage of marble floor tiles is their ability to accommodate high amounts of polish, unlike other floor materials, giving your floor a sparkling, shiny look that adds to the whole luxurious feel and makes your floor stand out wherever it may be. Whatever color, pattern, or finishing coat you want for your marble floor, our flooring company in Pinole, CA can give you all the advice and services you need to get them.
Marble is eco-friendly.
Marble is all-natural. It is created naturally underground as the soil is pressurized and heated into this stylish rock that we mined out of the Earth's surface. Other synthetic materials, such as vinyl and linoleum, are largely created through artificial means, making them products of environmentally hostile processes.
Marble is dense.
Not all floor materials can bring beauty and toughness at the same time. Dense floor materials like marble are ideal for places with a lot of continuous human activities, such as hotels and hallways. On the other hand, marble is not the toughest material out there. It is still prone to the occasional dents and cracks. It is advisable to put the right seal or finish to your marble floor to extend its longevity. With Bay Area Custom Floors Inc., we can provide you not just the knowledge and advice in preventing wear of your marble floors but also the right materials to do so.
Bay Area Custom Floors Inc. is the best choice for your marble tile flooring dreams.
Marble is not technically famous for being easy to handle. It may be hard and dense, perfect for continuous use and pressure, but it is also absorbent. Liquids that last on marble surfaces can stain your marble floors. It is generally not recommended to use marble in kitchens and bathrooms. Under certain conditions, marble can also be prone to chips and cracks. There are surely other important considerations in choosing the elegance of marble floors, and we guarantee that our floor company is the best partner you can have in this journey.
Our experienced professionals will be with you from the start and not just until the finishing touches of your marble floors, but up until you need to make changes, repairs, or quality control, way after the tiles are installed in your space. We can handle everything from consultation and installation to finishing and maintenance. You can trust Bay Area Custom Floors Inc. for all your marble tile floor needs in Pinole!
Free Marble Tile Floor Consultation
Getting new floors can be quite an intimidating experience, but we are here for you throughout the entire process of floor construction. Your dream of elegant marble floors is one call away!
Contact Bay Area Custom Floors Inc. today at (925) 320-3955 for your free consultation with a marble floor tiles expert!