Richmond Laminate Floor Installation
Wood flooring is costly, so for people who are working on a tight budget, laminate flooring is an amazing alternative. Laminate is one of the cheapest flooring options in the Richmond market, but amazingly, it can give you the look of real natural wood. It has a clear wear layer on top that prevents damage and stain that may be caused by any spillage or accumulated dirt.
At a fraction of the cost, you can get the appearance of expensive solid hardwood. Moreover, laminate flooring is easy to clean and maintain. It has a long lifespan and approximately lasts for about a decade.
If you just bought laminate flooring and didn't know how to install it, you can seek help from professional installers. After all, they have the right equipment, resources, and the skill to carry out such precise installation that you need. We highly encourage you to partner with a flooring company that will walk you through the whole installation process. Bay Area Custom Floors Inc. is a full-service Richmond, CA flooring company that is committed to serving you well! We can install your laminate flooring in any area of your house, or your commercial property.
Call Bay Area Custom Floors Inc. at (925) 320-3955 to get a free consultation!
Installation Method
Laminate floors are often not suspended on the floor surface but installed as floating floors. Meaning to say, they are not attached to the subfloor but connected. This method is called the floating floor method. Foam materials are rolled out and taped together as an underlayment. After that, the laminate planks are laid out. These laminates form a single heavy unit of flooring.
To connect the laminate planks, they are either glued or snapped together. Unlike the joinery used in hardwood, laminate wood planks are attached through the outer grooves, then angled to one another. Subsequently, a folding mechanism takes place. One board is folded down to become the same level as its companion board.
To give you an idea of the step-by-step procedure of laminate floor installation, here is a summary of instructions:
Plan the Floor Layout
The first thing to do is to test-fit the laminates, connect several of them, and see how they appear on the floor surface. Planning is an essential phase. Without it, there's a possibility that some of your planks will be put to waste, or you might repeat the process all over again. This is why seeking a professional installation service is more recommended. Installers can easily make the plan of floor layout and know which one best fits the area that must be covered.
Spread of Underlayment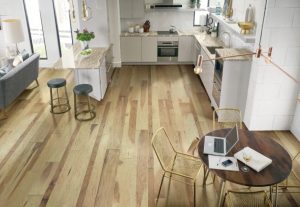 As mentioned earlier, there should be an underlayment beneath the laminate flooring. This serves as protection to moisture and somehow keeps the laminate planks in place. The underlayment sheets should be rolled out in such a way that they touch edge to edge with one another, not overlap. Tape may be used for securing the position of the foam sheets.
The manufacturer might have provided a specialized type of underlayment, such as a peel-and-stick type. This is much easier and more secured to use than the one without. So, you can ask your laminate floor provider for this or your flooring company partner for the installation.
Place the First Row of Planks
The first row of planks is supposed to be laid on the part with the longest wall, where you should start. Installers have the equipment to cut off tongues of the laminate with ease. Those with trimmed edges should face the wall. To avoid wide gaps, scrap wood can be used in the spaces.
Continue with the Succeeding Rows
Applying a slightly different method, the next rows should be placed with laminate planks. To increase steadiness in place, a hammer can be used in tapping the planks to make sure they are properly positioned on the underlayment.
Installation of the Last Row
Remember, the flooring and the wall should at most have a ¼-inch gap in between. For the last set of planks to fit, a circular saw can be used to trim edges. Again, you don't need to worry about this as your installers are ready with the essential equipment for the laminate floor installation. Using the same tongue and groove technique for plank-fitting, the last set of sheared planks are to be installed.
Finally, spacers must be removed. Then, the installers may put up a baseboard molding just next to the perimeter of the room. Moldings are going to be responsible for concealing the gaps on the walls.
Talk to Our Installation Experts
If you live in Richmond, CA, and are in need of floor services such as laminate floor installation, we got your back! Bay Area Custom Floors Inc. is a prime local flooring company that consistently serves different clients only with the best flooring services. We are committed to providing you with a flawless transaction and excellent services. We install flooring materials both in residential and commercial properties.
Call Bay Area Custom Floors Inc. at (925) 320-3955 and get a free quote now!