Hercules Laminate Flooring
Are you looking for an attractive and affordable flooring solution for your home or business? When you want durable, versatile flooring that can be quickly and easily installed in your home, your Hercules laminate flooring company has the solutions you are seeking!
Laminate floors are typically composed of paper, plastic, melamine, or fiberboard, making them composite floorboards. They are an affordable and versatile flooring option, available in a wide array of colors, styles, and thickness and durability options. Laminated planks are faster and easier to install than many other flooring types like hardwood or tile, allowing our professionals to quickly renovate your space and get you back in your home sooner. Some laminate flooring solutions can be installed directly on top of your existing flooring, creating an even faster installation process.
Laminate flooring is attractive, durable, and readily available in a wide selection of patterns, prints, and finishes. Many different homes and lifestyles are ideally suited to laminate floors, and many different homeowners find that laminate flooring provides the classic appeal of traditional hardwood at a price they can afford.
As your Hercules laminate flooring company, we deliver high-quality products at affordable prices, perfectly customized to suit your home and needs.
Call Bay Area Custom Floors Inc. at (925) 320-3955 for a Free Consultation & Estimate!
Why Laminate Flooring is Your Best Option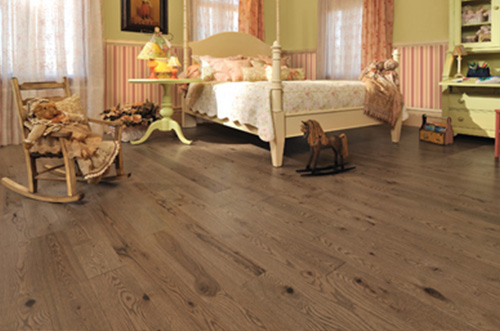 Laminate flooring is manufactured in individual planks consisting of multiple substrate layers. These individual layers provide different benefits, creating a final product that is both affordable in price and unmatched in durability.
Laminate floorboards consist of four useful and unique layers:
The base layer, or

backing layer

, is the first layer. Its job is to balance the floor and to absorb moisture, providing a more level appearance to your flooring and reducing damage to subflooring. The base layer for your laminate boards may be fabricated from paper, plastic, or melamine, depending on the manufacturer and style of your preferred board.

Next is the

core layer.

This determines the overall thickness of your board and is comprised of a medium-density fiberboard (MDF) or a high-density fiberboard (HDF). This board is often compressed with a mixture of adhesive and resin to produce a sturdy, yet flexible finished board that is resistant to moisture, indentations, and other damage.

The next layer determines the unique design of your floorboards. The

pattern layer

creates a realistic and convincing appearance, in either a wood grain, mimicking natural stone, or in a traditional tile pattern. This layer is made of durable vinyl and printed with high-quality designs.

The final layer is called the

wear layer.

This is a protective layer that helps to reduce damage due to consistent traffic and to minimize sun fading. Consisting of a clear aluminum oxide coating, the wear layer is applied to the top surface of the board as a final touch. Your final boards can have a high-shine, glossy, or matte finish, based on your desires and options for the product of your choice.
Together, these layers create a finished laminate board that is durable, attractive, and specifically designed to look fantastic in your home. Many different patterns and styles of laminate flooring exist, and our experts provide personal recommendations, product samples, and project examples to help you choose the ideal flooring for your home.
A low-cost, durable, and attractive option for new or replacement flooring, the Hercules, CA laminate flooring experts at Bay Area Custom Floors Inc. customize your space affordably and quickly, allowing you to get back to your life sooner.
Laminate Flooring Installation
As your Hercules laminate flooring company, we love the ease and speed that installing laminate flooring affords us. When you want to quickly and attractively update your space, laminate flooring is an outstanding choice.
Tile flooring is automatically a multi-day installation experience, requiring time for the mortar to dry, grout to be placed, and finishing to be done. Laminate floors, however, are designed to allow almost single step installation. However, as your custom flooring contractors, we provide a lot more than just laminate floor installation.
We start by providing flooring consultations in your home or business. We can assist with recommending products that meet the needs of your family, style of your home, and that falls within your project budget. We understand that you want the most appealing flooring possible, that is cohesive with your overall design aesthetic, without breaking the bank, and we help you find the perfect balance.
We consider the area of your home you would like to have new flooring installed in order to make recommendations for suitable and smart product choices. Different laminate boards can be better suited to different areas of your home. There are durable, waterproof boards designed for wet areas, while more affordable options can be selected for guest rooms, offices, or other areas that experience less wear and traffic.
After selecting the ideal flooring material, we prep your space, install underlayment to reduce noise and protect subflooring, and install your boards so that patterns are correctly aligned or that wood grains are varied for maximum appeal. We also provide all finishing services to ensure your new floors are ready for your family.
Call Bay Area Custom Floors Inc. at (925) 320-3955 for a Free Consultation & Estimate!
Best Laminate Flooring Services
As your Hercules laminate flooring experts, we are ready to provide smart recommendations, high-quality products, and dedicated assistance throughout your flooring project. Whether you need assistance selecting the ideal laminate floor product, or already know exactly what you want and just require local flooring installation, our dedicated team of flooring professionals is ready to deliver for you.
For all of your local flooring company needs, trust Bay Area Custom Floors Inc.!
Call Bay Area Custom Floors Inc. at (925) 320-3955 for a Free Consultation & Estimate!